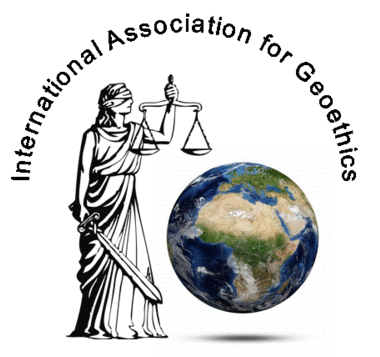 International Association for Geoethics

Geoethics in Africa. GSAf and IAGETH have signed a Memorandum of Understanding (MoU). 26 April 2013.

Gender and Geoethics. IAGETH have established the first International Commission on Gender and Geoethics (ICGG). It is coordinated by Dr. Mary J. Thornbush (University of Birmingham, UK).

Geoethics and IAGETH will be present in the IAEG XII Congress, Torino, 2014


IAGETH will be present in the 9th National Geological Congress (Portugal) and 2nd Geological Congress of Portugeses Speaking Countries, Oporto, July 2014.

Geoethics and IAGETH are included in the Global Ethics Network


IAGETH and Geoethics will be present in the Global Heritage: An Erasmus Intensive Programme, University of Salamanca


EOS7. Session: Geoethics and Geoeducation. European Geoscience Union. General Assembly 7-12 April, 2013. Convener: Vaclav Nemec. Co-conveners: Jesús Martínez-Frías, Lidmila Nemcova "


Geoethics and IAGETH will be present in the International Congress of Stratigraphy, STRATI 2013. 1-7 July, Lisboa (Portugal). Thanks to our National Chapter, Prof. José C. Kullberg.


The International Conference on Geoethics, Pribram (Czech Republic), 14-18 October 2013.

A new and successful session on Geoethics was held in the 22nd Symposium on Geo-Environment and Geo-Techniques (Dec. 7-8, 2012, Tsukuba, Japan), Japanese Society of Geo-Pollution Science, Medical Science and Urban Geology (PMUG).


Geoethics and Sustainability: IAGETH in the 2nd. World Sustainability Forum (2012)


A new contribution about Geoethics is presented by IAGETH members in the XIV "Conferencia Iberoamericana de Sistemas de Información Geográfica". CONFIBSYS XIV, 2013, Honduras


Keynote about Geoethics of our Prof. Lopo Vasconcelos, IAGETH National Chapter (Mozambique). 1st Geological Congress of Mozambique, 2012.


Letter of Dr. Vaclav Nemec to the IUGS President and IUGS Secretary General (20 August 2012), informing about the foundation of the International Association for Geoethics, and expressing our interest on "preliminary support for the further needed legal steps and any administrative agenda including our affiliation to the IUGS structures "


N. Nikitina Geoethics: theory, principles, problems. Monograph. M:, LLC Geoinformmark, 2012. 155 pp. ISBN 978-5-98877-049- 7?
The first world monograph about Geoethics was published in July , arising from the scientific research of the Earth and its mineral resources, practical geological exploration, mining and utilization of mineral resources, as well as from the use of mineral resources while constructing and operating the underground facilities not related to mining.For specialists of research institutes, university professors, employees of the administrative apparatus, legislative authorities, developers of a variety of programs, concepts and scenarios for the development and utilization of mineral resources, geologists and workers of the mining industry.

April/2012: The Spanish Official Association of Geologists (ICOG: Ilustre Colegio Oficial de Geólogos) has created the Commission of Geoethics (President: Jose Luis Gonzalez (ICOG); Vice-President: Jesus Martinez-Frias (CSIC).